Second Medium-Term Management Plan(FY2022 - FY2024)
Positioning of Second Medium-Term Management Plan
The Group backcast to formulate the Second Medium-Term Management Plan based on its vision of itself in ten years.
In the period of the plan, the Group will strive to expand its core business and strengthen growth businesses.
Vision of the Group in ten years (FY2030)
Continue to create new value in a variety of primarily residential-type properties nationwide and provide reliable quality and services to customers.
Basic Policies and Priority Measures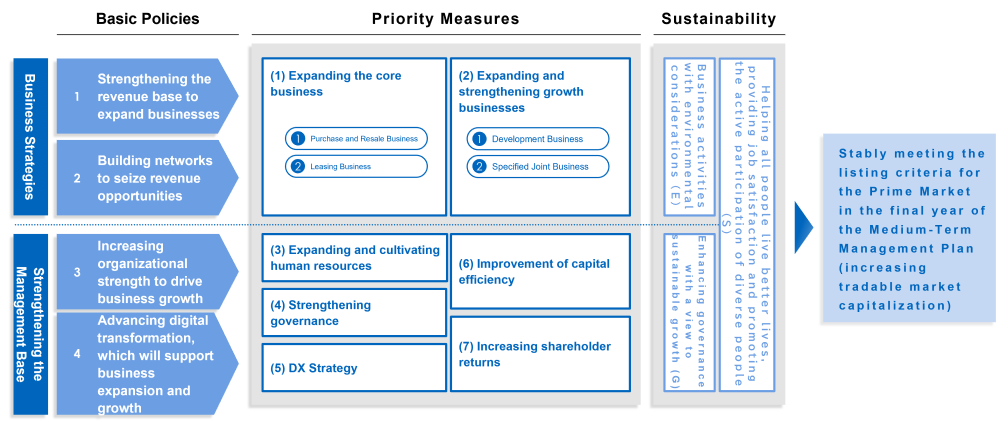 Consolidated Results Targets(FY2022 - FY2024)
unit:Million yen
FY2021
results
FY2022
results
FY2023
FY2024
initial plan
revised plan
Plan (no change)
Net sales
33,956
31,242
44,660
45,865
53,224
Real Estate Trading Business
31,842
29,016
41,994
43,372
49,797
Real Estate Leasing and Other Business
2,113
2,226
2,666
2,492
3,427
Operating income
2,342
2,976
3,514
3,625
4,991
Ratio to net sales
6.9%
9.5%
7.9%
7.9%
9.4%
Ordinary income
1,770
2,309
2,919
2,840
4,411
Ratio to net sales
5.2%
7.4%
6.5%
6.2%
8.3%
Profit
1,276
1,564
1,856
1,863
2,805
Ratio to net sales
3.8%
5.0%
4.2%
4.1%
5.3%
Key Management Indicators
We have set the following key management indicators for the final year ending FY2024.

Review of Business Portfolio
The Group will focus investment on growth businesses, the Development Business and Real Estate Specified Joint Business, to expand them as new core revenue sources.
The Group will increase the ratio of growth businesses and build a healthy business portfolio.

Capital Policy Overview
The Group will improve shareholder returns by investing in its core business and growth businesses while maintaining a high level of financial soundness.