Strengthening retention
For the Group to continue to enhance its corporate value in a rapidly changing business environment and social conditions, we believe it is important that each one of our employees with diverse values continues to take on challenges in cooperation with their associates and partners based on the Group's mission, our shared values. We will instill the corporate philosophy in employees and provide them with opportunities to put the philosophy into practice and have a sense of growth. In this way, we will increase employment engagement and retention.
Promoting a work-life balance

The Group strives to create an environment where employees can work in diverse and flexible ways and demonstrate their potential without being significantly affected by life-stage events, including pregnancies (and the pregnancies of spouses), childbirth, child-rearing, long-term care and the treatment of diseases.

Encouraging male employees to take childcare leave

The Group encourages male employees to participate in the raising of their children. We encourage them to take childcare leave through internal education and training. In addition to childcare leave, we have a range of systems that male employees can use to aid them in their raising of their children, including paid leave, reduced working hours, and paid caregiving and nursing care leave. We recommend that they combine these systems and actively participate in the raising of their children.

Improving the percentage of paid leave taken

The Group aims to increase the percentage of paid leave taken. We designate days when employees are encouraged to take paid leave to maintain their health and refresh themselves.

Reducing overtime hours (introducing no overtime days)

As part of changing the ways that people work, the Group has introduced no overtime days to help employees maintain a healthy work-life balance (a healthy balance between their job and their personal life). We encourage employees to review the ways they work and to perform their duties more efficiently, reducing working hours and striking a healthy balance between their job and their personal lives.
Major systems and initiatives
Annual paid leave
Employees can take ten paid holidays annually in half-day units after six months have passed since they joined the Company.
Shortened working hour program for childcare
Employees can reduce their working hours by two hours maximum per day until their child enters school
Childcare leave
In principle, an employee raising a child who is less than a year old can take childcare leave until the child become a year old.
If the employee cannot place the child in a day-care when the child is a year old, they can take childcare leave until the child is a year and six months old (until the day immediately preceding the child's second birthday in some cases).
Nursing care leave
Paid. Employees can take a maximum of five days a year of nursing care leave if they need to care for a relative.
Caregiving leave
Employees can take a maximum of 93 days of caregiving leave to care for a relative who needs care or support.
Caregiver days off
Paid. An employee can take a maximum of five caregiver days off per year to care for a relative who needs care or support.
Employee engagement
Introducing engagement surveys

We have started engagement surveys to qualitatively determine to what extent employees are interested in their job and to what extent they are satisfied to improve the organization's performance, productivity, and employees' motivation and reduce the turnover rate. We will develop measures to improve the organizational structure and implement the measures across the board.
We will also implement initiatives to determine the situations of individual employees and facilitate communication between employees and their supervisors. Based on the results of these initiatives, we will accurately determine the risks related to the acquisition and retention of human resources and will improve the vitality of employees and the results of the Company and retain excellent human resources who underpin the sustainable growth of business.
Holding town hall meetings

We hold meetings where management and employees talk to each other directly. The meetings are held for the president, directors and other officers to directly listen to the opinions of front line employees and quickly reflect these opinions in their management. The meetings are also used to facilitate communication between the top echelons and front line employees.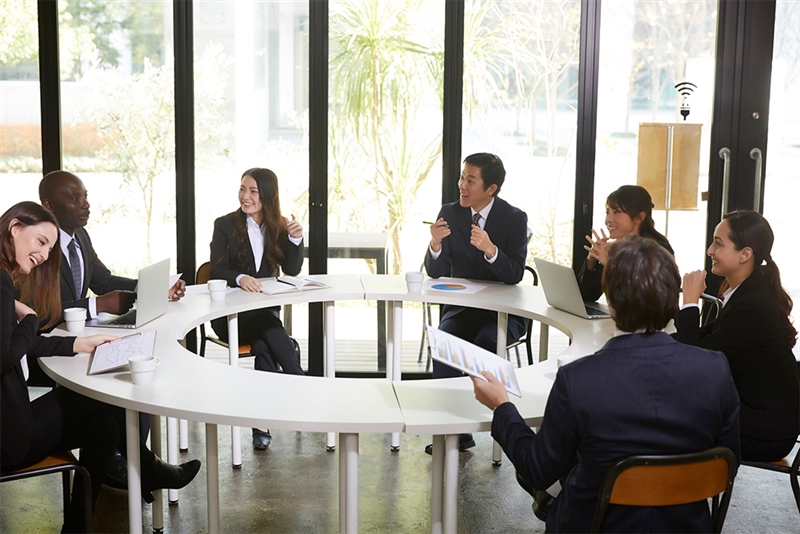 Increasing awareness of participation in management
Employee stockholding association

The Group has created an employee stockholding association that encourages employees to purchase Company stock. The Company provides financial incentives to encourage each employee to contribute. The association contributes to increasing employee awareness of participation in management and helps employees form long-term assets.